Fabric dyeing process
Every dye is unique, and this is the secret. From a red, a yellow, and a blue, you can get every single color, with different tones. The trick is to make the perfect color for the perfect fabric. The color that will shine in the next luxury fashion show. This is all the difficulty of the master dyer work There are no rules or spec sheet for any colors. Every color is different and here it goes with the process from the color analysis at the workshop until the show off of the color on the fashion runway.
To precisely reproduce the same tone, some steps are essentials:
---
Analysing
A thorough analysis of the fabric: silk, cotton, lace, nylon.
Determine which pigments to associate. These pigments will be mixed in a tank of water.
---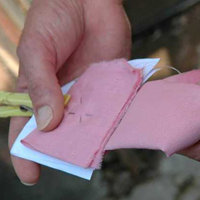 Testing
Tests are done from a fabric sample. The goal is to get the closest to the targeted color.
---
Dyeing
Once test matches exactly with the expected colors, the fabric is entirely immersed in the tank for a dye bath.
Controlling the tone after a partial dry of the fabric.
Addition of pigments if necessary in order to balance the first colored tone / to make the color more powerful.
---
Wringing out
Once dyeing is done, the fabric is moved in our ancestral wringer.
---
Drying
Get rid of all the water, the fabric is hand tensed thoroughly on a huge wood screen, in order to give to the fabric former size and shape back.
Once perfectly dry the fabric is folded and can be delivered to its sender. Hoping to admire the dyed fabric on a fashion show a few days later!